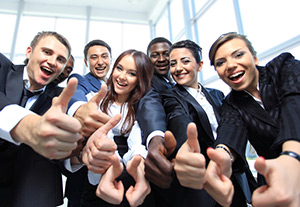 As a candidate working with "Your Talent Source", the level of professionalism and competency they displayed was welcome during what can be a stressful time.  Their sense of urgency on my behalf while remaining detailed oriented in laying out my search strategy was impressive and extremely welcome.
In particular, working with Marion Mehrer on updating my resume to meet today's market was lifesaving.  Her ability to outline skills, experience and knowledge into a format designed for today's needs was impressive.  The content, use and style of resumes, driven by networking websites, have changed considerably over just the last several years.  More critical than ever, the proper resume sets you apart in executive searches.  Marion's expertise and ability to work with me directly in crafting my resume from outdated and stale to a document that is now customizable for individual opportunities and highlights my operational strengths; has been a major asset in my search.
I heartily recommend "Your Talent Source" for any professional employment needs.  They take the time up front to understand your unique skills and assets, help create the necessary personal brand and then assist finding matches tailored to you.  A great team!
Matt
Commercial Executive
---
I highly recommend, with complete confidence, Your Talent Source for your Executive Recruiting needs both as a Candidate, Employer and Hiring Manager.
As a Candidate, Your Talent Source worked with me on re-working my resume, using their well-defined process of laying out my knowledge; skill, ability, and experience in a manner that makes it simple for an Employer to match the capabilities to the tasks of the position. It is very critical to have a simple and concise format that conveys one's accomplishments and capabilities in this manner.  My final resume product really showed what I had to offer.
Your Talent Source also helps their candidates to understand the company culture, leadership style, etc. This too ensures that there is a good fit for both parties.  They also go the extra step in getting candidates as well prepared as possible for interviews.
As an Employer and Hiring Manager, I can depend on Your Talent Source to bring the Talent needed to fill open &/or confidential positions.  I can also be assured that the Candidate is well-suited for the specific position.
In several interviews, members of my Leadership Team performing the "Resume walk" while interviewing the candidate, have commented the ease of "connecting the dots" of the skills and talent to the tasks of the Job Description. Many positive comments not only from me but, from my leadership team as well.
I would like to thank everyone at Your Talent Source for continually delivering professional results and I look forward to continuing to work with them in a Partnership of Success.
John DeSanzo
Plant Manager
---
I have been working with Jeff Swoyer, from J Swoyer & Associates & Your Talent Source, for almost 7 years now, and I am continually impressed with his service and ability to adapt to the ever-changing world we live in.  Our relationship started with Jeff working directly with me on my own personal skillsets.  Jeff was instrumental in my personal and professional career success and advancement.
When I became Plant Manager back in 2016, in Gainesville, GA; I brought Jeff in to help me develop a higher level of team performance. The Team individually were absolute superstars, but as a Team we were average at best.  Through Jeff and his approach utilizing the DISC assessments, Emotional Intelligence, Emotional Awareness, Conflict Management and Effective 2-way Communications we were able to take the next step in becoming a High Performing Team.
Once we had established trust within the team, we were able to take the next steps in becoming a highly successful organization.  Phase 2 was creating a "vision" as to what we wanted to be when we grew up.  Jeff has developed a training module utilizing the "Traction" book that was extremely powerful helping to establish our vision, but most importantly, the entire lead team helped develop it and we had absolute buy in and ownership.  Needless to say, the Operations had tremendous success moving forward in all aspects of the business.
I have moved on with my career and joined an independently owned company as the General Manager.  The company is much smaller in size but fits my personality and aligns well with my career aspirations.  Jeff and Your Talent Source were very instrumental in helping with my job search and decision-making to land this opportunity.  Since joining the Team at Jordan, in Memphis, TN, at the end of 2018, I have utilized Jeff several times with very much the same approach as in Gainesville, GA.
Jeff is an instrumental part of every hire within the organization and his feedback weighs very heavily on my decision making.  When recruiting for high-end roles, we have utilized his recruiting firm, Your Talent Source, with great success.  In a short time, Jordan has turned the corner and is turning a nice profit and building a culture of high performance and success.  We will continue to utilize Jeff and Your Talent Source as we embark on this new journey.
In short, it is a pleasure working with Jeff and Your Talent Source, and I would definitely refer business associates to him, if they are either looking to build a high performing organization with long term vision and absolute ownership with the Lead team and/or are looking for an Executive Recruiting Firm that understands what kind of talent is needed to build a high performing team.
Sam Tingler
GM Jordan Aluminum Company
---
In the past I have used recruiters to hire talent.  I can tell you that, without a doubt, I would hire Your Talent Source over other recruiting firms, because of their thoroughness with which they screen candidates, the attention to detail and caring for the needs of both the candidate and the employer.  YTS takes the guesswork out of the equation – they address the "deal breakers" before they become "deal breakers" and setup the candidate AND the company for success.
I found that Your Talent Source truly understands the process and the points of view of both the cadidate and the employer and takes care of many of the details which left unattended could derail the deal.  They also acted as a consultant and advisor and had a keen ability to communicate difficult topics in a smooth and efficient way.
Your Talent Source is an expert in finding and attracting top talent, interviewing candidates, conducting leadership assessments and "blew me away" with their skills, talent and expertise at assessing candidate cultural and position fit delivering the "right candidate" with the "right position" and the "right company".
Jonathan O'Leary
President
---
I would like to thank the entire team at Your Talent Source.  From the time that they approached me about the opportunity until I arrived at my new job they took care of everything.  They listened to what I was looking for in my next position and made sure it was a good fit before moving forward. Their interview preparation process was very thorough and greatly appreciated. Their research of the company was accurate and the assessment of the people I was interviewing was right on so there was no surprises during the interview. During the negations they worked hard to make a package that worked for everyone.  Throughout the entire process they made sure that everything moved smoothly and that I was kept well informed.
 John Suddreth
Director of Operations
---
I can not expand enough on how wonderful working with Your Talent Source was for me! They are well rounded and well grounded professions who really understand the needs of both a career candidate and their client company.  They assisted me in aspects of securing a very well matched opportunity not just simply placing me in a company.  Most importantly they made the overall experience a personally enjoyable and fun time.  Their level of detail and commitment to ensuring that I was really a fit with the company (personally, professionally, financially, etc) was exceptional.  Their follow up and follow through was amazing doing all that they said they would do and more…
Peter Gervasoni 
Supply Chain / Sourcing Professional
---
I have worked with many placement professionals who seemed more interested in checking off all of their requirements, than actually trying to find a great company to match my best interests. Your Talent Source went above and beyond to represent my interests to the businesses that I eventually interviewed with and landed a job with. What really set them apart was that they always kept me informed and up to date. I can't stress enough how important that attitude can be, when most other people that I had contact with, would go long periods of time without letting me know what the status of the search was.
Tom Hall
Supply Chain / Sourcing Professional
---
I worked with Jeff as part of Executive Team at Alcoa, then again at Portola Packaging. I could say that he is "World Class". I could say that he is "Top Notch". But I choose to say that he is "The Best". Truly, the best HR / Talent Development professional I have worked with during my 30 year career.
Jamie Kane
Owner, President at Sandler Training, Sarasota FL
---
Some years ago, I helped form Cressona Aluminum Company, which turned out to be an amazing success story.  As a matter of fact, our founder, Jim Stine, published a book on the entire experience.  As the book describes, our success was not rocket science.  We simply established the company on some very basic, but extremely important principles with our employees, such as openness, fair play, and mutual respect.  I give Jeff Swoyer, who joined our team from the outset, most of the credit for the development and implementation of these principles throughout the organization.
As Vice President of Human Resources, Jeff created a sincere trust among the employees which made him extremely effective at dealing with the multitudes of human resource issues at all levels of the organization.  I personally consulted with Jeff on a day to day basis on virtually every matter involving our employees.  Our employees trusted Jeff because they knew he respected them and he truly cared about them and their families.  Over the years this constant focus on our employees created an unbelievable work ethic that was based on commitment and dedication to the job.  The "Cressona Culture" was something very special and to this day, it is hard to describe the power and competitive edge it gave our company.
Jay M. Linard 
Retired President and CEO, Cressona Aluminum Company
---
I had the pleasure of working with Jeff, as a peer, for nearly 3 years at D&W Fine Pack. During this time, we partnered continuously on building a common culture as we brought multiple legacy companies into one operating entity. As a partner, I found Jeff to be capable, committed, and engaged. In particular, as we tackled tough operational topics, such as benefits and compensation, or workplace safety, he was always right by my side as we took new processes to the operational floor, and worked through the implementation of the programs with our staff. From an Operations perspective, I could not have asked for a better HR partner.
Russ Stephens
Vice President – Manufacturing D&W Fine Pack
---
I worked closely with Jeff at D&W Fine Pack LLC in my role integrating three food packaging manufacturing companies. Jeff is unique in that he blends an extensive lean manufacturing foundation with progressive Human Resource management theory and is able to bring this combination to light in practical application.Jeff was instrumental in integrating pay and benefit practices, instilling a teamwork focus, producing significant cost savings and in assembling a first class HR team.
 Laurence Huff
Chairman of Integration, D&W Fine Pack
---
Jeff is the consummate professional. His detail to organizational design and structure has helped shape D&W into a an industry leader. With Jeff"s help I was able to design and implement a more effective IT infrastructure. Additionally, Jeff's coaching helped members of my team more effectively manage broken down levels of communication. His understanding of organizational behavior is definitely unique and second to none. I highly recommend Jeff – he is detailed, knowledgeable, and a results driven person.
Guillermo (Bill) Avila, M.A.
Technology & Business Architect
---
I have had the honor and privilege to work with Jeff on several occasions. Jeff is by far the most professional, passionate, distinguished HR leader that I have met.His strategic HR vision is second to none and it bleeds through all of his endeavors. His commitment to his people and his goals is unmatched in any circle.  Jeff is a true leader in the HR community and I am proud to have had the chance to work with him.
Ray Panice.
Account Executive, Portola Packaging
---
I worked with Jeff for two years when I was a general manager and he was the VP of HR at Alcoa [and] then hired him as my Chief Human Resource Officer when I was the CEO of Portola Packaging.  He is one of the most enlightened HR resources I have found that views his role as assisting the business to achieve the goals through the selection, engagement, development, and alignment of people.  Jeff can work effectively at high level strategic HR issues all the way through on the shop floor design of work practices…
Brian Bauerbach.
CEO, CST Industries, Inc.
---
Jeff is a dynamic, strategic, and passionate Human Resource leader. He is an excellent mentor who you can count on to provide exceptional support and guidance. He is easy to work with and a great listener. I have had the great pleasure of working with Jeff for the past few years and he offered many learning and professional growth opportunities. Jeff was successful in leading his HR team through multiple integration projects. Jeff is not only an HR professional, but he has a thorough understanding of the Operations within manufacturing. Jeff earned the trust and respect from Plant personnel immediately by his appreciation of challenges they faced and his willingness to provide support in continuous improvement efforts.
Estella Kellog
Regional Human Resources Manager-West at D&W Fine Pack
---
In his role as VP HR, reporting to me, Jeff demonstrated his well rounded business partner skills. He is a strategic thinker with a first-hand understanding of the manufacturing environment which comes from his experience as a plant manager and in teaching and implementing lean manufacturing. Jeff urges for and can guide an organization through change to improve top and bottom line performance. Without hesitation, Jeff steps up to the sometimes tricky role of providing critical feedback to his peers and his boss. He rounds out the full spectrum of HR with an understanding and ability to create a full set of people tools (compensation and benefits, performance management, succession planning, labor relations). Jeff is a highly capable HR executive!
Elizabeth Fessenden
President (retired), Alcoa Flexible Packaging
---
Jeff's earlier roles with Cressona Aluminum led to a business interest and acumen that is not always present in manufacturing based HR leaders. In his time with the Alcoa extrusion business, Jeff built on his business focus and showed great interest and aptitude in capturing the value of lean manufacturing from both a financial and people systems perspective.
Paul Thomas
President and CEO
Reynolds Specialty Group, Former Exec. VP Alcoa
---
Jeff Swoyer is an HR Executive that understands how a business creates value. Jeff thinks strategically and has deep experience in leading initiatives that enable the organization to attract, retain and motivate the people needed to drive results. Jeff has an outstanding understanding of the financial aspects of the business model and ensures that the organization derives the most benefit for the cost. He is a passionate and effective executive team member. I highly recommend Jeff for any organization that needs to make results happen through people.
John G. LaBahn
Former VP and Controller, Portola Packaging, Inc.
VP Administration & CFO, Control Solutions LLC
---
I was fortunate to have worked with Jeff Swoyer during my time as the Alcoa Flexible Packaging Director of ABS(Lean Manufacturing). Jeff and I conducted several Kaizen events together that transformed low performing operational plants to lean, effectively run organizations that engaged people daily to continuously improvement the operations. Jeff's ability to motivate employees to strive for excellence was amazing. His energy and understanding of how people work and ways to get the best of them was impressive. I would highly recommend Jeff to any organization that wants or needs a Human Resource leader who easily manages the HR needs of a large organization but more importantly knows how to quickly lead organizations to greater levels of performance.
Rich Kirchhoff
President, Continuous Systematic Improvement LLC
Former Vice President Operations, Reynolds Specialty Group
---
Jeff worked with me in HR at Alcoa and was most recently VP of HR for Portola Packaging. He is a great HR leader and is as well versed in lean concepts and Toyota Production System knowledge as anyone I know in HR (and that's a lot of people!).
Jim Michaud
President, Continuous Systematic Improvement LLC
Former Senior HR Leader at three Fortune 100 companies
Currently Partner at Laurus Strategies, a HR Consulting Company.
---
"I am very fortunate to have worked with Jeff for several years at Alcoa and Portola Packaging. Jeff's penchant for bringing out the best in people is admirable, and was recognized as "the one" to go to if you wanted results. I have worked collaboratively with Jeff on numerous lean transformation projects and have come away with high a regard for his ability as a logical and creative innovator.
Jeff's process improvement passion, people skills, and work ethic drive results and make work more enjoyable for the employee and more efficient for the company. His high level of professionalism combined with a great talent for effective communication and relationship-building make him an outstanding resource to include on your team."
Tom Pesaturo
Principal- Exceeda Consulting
Former VP Manufacturing Portola Tech International, Inc.
---
I worked with Jeff as our VP of Human Resources at Alcoa Flexible Packaging, where I was the Plant Manager of the Downingtown, PA, a unionized manufacturing operation of 250 employees. Jeff, having been a Plant Manager, was exceptionally supportive of the needs of my plant and the people of the organization. He brought a unique approach to Human Resources, at the foundation of which was his understanding of life in a factory and his keen understanding of Toyota Production Systems. Because of this, coupled with his in-depth knowledge of Human Resources, he was able to develop and deploy HR processes that foster the engagement of all employees to become committed to the success of the business. Jeff has an ability to connect with people from the shop floor to the Board room and is confident and comfortable in either setting."
John Kay
EVP Manufacturing and Distribution
HVHC
---
I have had the opportunity to work with Jeff Swoyer from 1998 through 2006 with Alcoa, Inc. in two (2) of our business units. During that time Jeff was a valued colleague and business associate. In his role as a Vice President of Human Resources he provided invaluable direction and leadership for engaging employees to implement significant changes in our operations. From 2000 to 2002 I had the privilege of teaming up with Jeff to implement Lean Manufacturing concepts in 7 of our plant locations across North America. I would highly recommend Jeff to any organization. His skills go beyond just the Human Resource application in a business as he has demonstrated a real knack for the operations side of the business as well.
David Patrick
Best Practices/Manufacturing Support Manager
Kawneer Company (a division of Alcoa), and Alcoa Extruded Construction Products